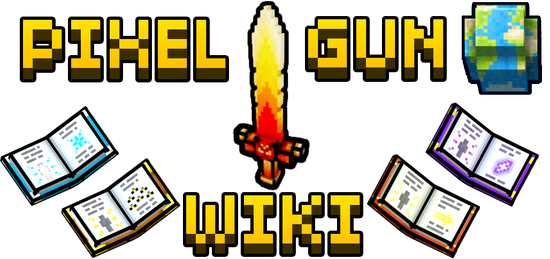 Welcome To The Pixel Gun Wiki,
the #1 source of information about Pixel Gun 3D and Pixel Gun World!



We have maintained 1,096 articles since December 2013.
We have made 133,560 edits since December 2013.


This site/wiki is not endorsed by or affiliated with RiliSoft.

This wiki requires an account in order to start editing articles. You may create one by clicking the "Sign Up" button below, or, if you already have an account, then you can log in by clicking the "Log In" button below.




Navigation

and

are addictive shooting games created by Alex Krasnov. They are FPS games with a variety of guns, addictive online Multiplayer battles as well as Singleplayers Modes.
This wiki will attempt to describe all weapons in the best of ability, maps, tutorials and various other things.
You can help and start adding pages and edit pages to make them better!


Wiki Rules
Like any other perfect wiki, this one has rules that guests and members must obey to avoid being blocked from this wiki. Please go through the following rules to avoid the risk of being blocked:
Editing Rules:
Do not add false categories.
Do not add random spaces (or categories) and edit the page and delete what you just edited. 
Do NOT vandalize! Vandalism will result in a block.
Do not add random photos or pictures and then delete them just to get badges. This is called farming badges and is absolutely not tolerated in this wiki.
Do not make inappropriate edits (putting swear words, sexuality etc.)
Do not add opinionated edits. Opinions are POINTLESS edits.

Commenting Rules:
Remember, this wiki is NOT endorsed by or affiliated with RiliSoft, so raging against the wiki makes no difference.
Use appropriate language (no bullying, no inappropriate language).
Respect all other users and their opinions. You may criticize but not in a rude way.
RACISM IS ABSOLUTELY NOT TOLERATED.
Do not post hacks. Hacks give unfair advantages over others and hacking or is like stealing from RiliSoft.
Do not spam.
Do not start or engage in flame wars.

Chat Rules:
Use APPROPRIATE LANGUAGE.
Do NOT harass another user.
Do not spam the chat. Read more...
Ad blocker interference detected!
Wikia is a free-to-use site that makes money from advertising. We have a modified experience for viewers using ad blockers

Wikia is not accessible if you've made further modifications. Remove the custom ad blocker rule(s) and the page will load as expected.